About Me
Full Stack Developer | Tech-Speaker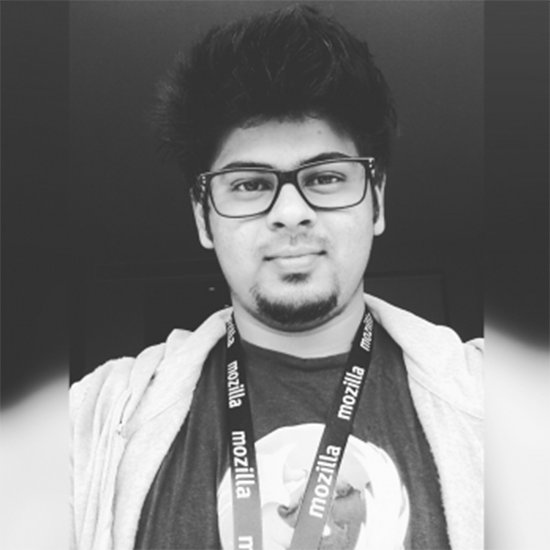 Jayesh Katta Ramalingaiah is a Full Stack Software developer. He is very innovative and has an artistic perception of technology and business. He has expertized skills in various domains such as IoT, Android and Web and good at developing Mobile Applications. He is currently engaged as an Android Developer in BFS Domain at TCS in Mumbai, India.
He is an Official Mozilla Representative, Reps Mentor, and a Tech-Speaker and has associated with Mozilla Communities and initiatives for more than 3+ years conducting 100+ events in his regions. He strongly believes and evangelizes that technology needs to a human-centric design and workflow in order to cater solutions for a diverse audience and feels passion for the open web, modern technologies, their development, and hacking. He speaks regularly about rust/ IOT / Web in various local meetup groups and conferences.
Resume
1+ Year of Experience
Coding Skills
Java
J2EE
Android
HML5
CSS3
Bootstrap
JavaScript
jQuery
Spring
Struts
Hibernate
Angular JS
Node JS
Ember JS
PHP
jQuery UI
Python
.net
Work Experience
Jan 2017 - Present
Assistant System Engineer
TCS Pvt. Ltd.,
Working as a Developer in BFS Domain.
Aug 2016 - Dec 2016
Full Stack Developer
IoTracX Pvt. Ltd.,
Developed company's v1.0 Website.
Was an exhibitor for startup pitching at IIMB Eximius'16.
Developed Completed full version of Cordova Android Applications for company's IoT products.
Developed E-commerce Websites.
Developed Hybrid Applications.
Developed Android Applications.
May 2016 - Aug 2016
Full Stack Developer
RadioStudio Pvt. Ltd.,
Develop a platform to integrate data representation in the dashboard with charts populating on the screen.
Conduct testing and deploy the code into production.
Provide assistance to business users on the effective use of applications and information technology.
Developed - Hybrid applications and prototypes for companies IoT products communicates with the Bluemix Server and the IoT Hardware.
Volunteer Experience
Feb 2014 - Present
Representative, Reps Mentor & Tech Speaker
Mozilla
Solve bugs, QA, Localize and Teach and Evangelize.
Education
2016
B.Tech - Computer Science & Engineering
SASTRA University
CGPA: 6.6666
2012
XII
Sri Chaitanya CO-ED Junior College
Percentage: 94%
2010
X
Silver Bells Central School
CGPA: 8.8